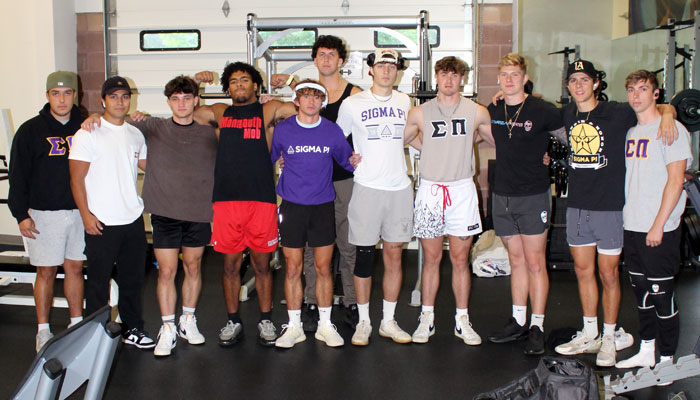 The purpose of the lift-a-thon event is to raise funds for philanthropic causes related to mental health and the awareness of counseling programs to address mental health issues. The group that ΔΒ Chapter raised money for was the Mental Health Association of Monmouth County. The MHA of Monmouth County has a unique focus on supporting and improving the mental health of members of our community and we are proud to put in the work to raise money so they can continue their great mental health awareness programming.
And here are the winners of the 2023 lift-a-thon:
Overall Winner

Ishyne Woodard

171 lb. and Above Weight Class

Ishyne Woodard
Squat: 425 | Bench: 370 | Deadlift: 500 | Total: 1,295

170 lb. to 151 lb. Weight Class

Thomas Fekula
Squat: 310 | Bench: 255 | Deadlift: 445 | Total: 1,010

150 lb. and Under Weight Class

John Dooley
Squat: 265 | Bench: 195 | Deadlift: 315 | Total: 775
Thanks to Rock Sports Club for hosting the lift-a-thon!
2023 Lift-a-Thon Organizers: Rob Franolic and Thomas Fekula
Coverage of the 2023 Lift-a-Thon included an article in The Outlook (and on the newspaper website), an article published on Monmouth University's website, and a thank you note published on the Mental Health Association of Monmouth County's website.
Check out the winners and coverage of the 2022 Lift-a-Thon and the 2021 Lift-a-Thon