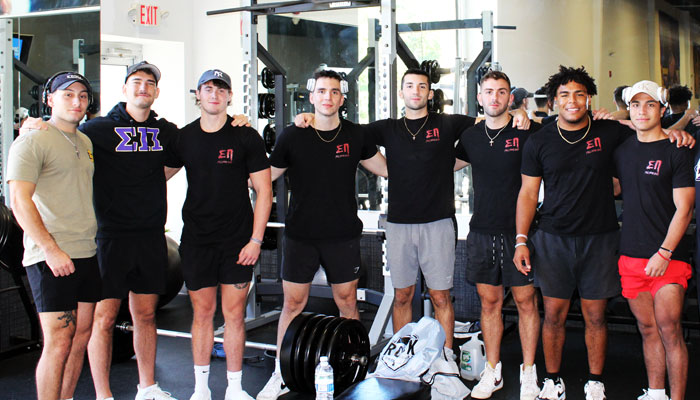 The purpose of the lift-a-thon event is to raise funds for several philanthropic causes related to mental health and the awareness of counseling programs to address mental health issues. The groups that ΔΒ Chapter is raising money for include the Mental Health Association of Monmouth County, Monmouth University's Counseling and Psychological Services, and Sigma Pi University's Bonds of Brotherhood program. Each of these organizations has a unique focus on supporting and improving the mental health of members of our community and we are proud to put in the work to raise money so they can continue their great mental health awareness programming.
And here are the winners of the 2022 lift-a-thon:
Overall Winner

Nick Zapata

190 lb. and Above Weight Class

Nick Zapata
Squat: 405 | Bench: 275 | Deadlift: 495 | Total: 1,175

171 lb. to 189 lb. Weight Class

Jager Iemmello
Squat: 335 | Bench: 305 | Deadlift: 405 | Total: 1,045

170 lb. and Under Weight Class

Devin Barros
Squat: 315 | Bench: 245 | Deadlift: 365 | Total: 925
The groups listed below generously sponsored the 2022 lift-a-thon event.
Deadlift Sponsor Level – $200 or more
Bench Sponsor Level – $100
2022 Lift-a-Thon Organizer: Nick Zapata
Coverage of the 2022 Lift-a-Thon included a thank you note published on the Mental Health Association of Monmouth County's website.
Check out the winners and coverage of the 2021 Lift-a-Thon